Bringing your pensions together
Have you thought about bringing your pensions together?
Bringing together all your pensions into one place can be a great way to help you get a clearer view of what your retirement savings will look like when you stop work. However, it's important to think carefully about whether this would be a good choice for you. Aegon have kindly produced a video to help you understand how to bring your pensions together should you wish.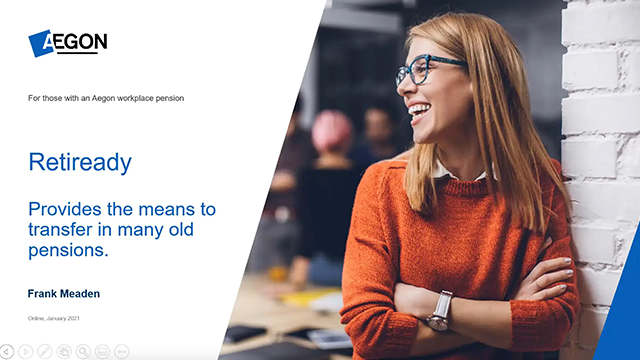 Should I consolidate my pensions?
Not all types of pension benefits are the same, so it might not be advantageous to collect them altogether. However, broadly speaking, if you have a few small Defined Contribution pots, then you may want to consider pooling them all in one Scheme.
When you're thinking about transferring, you should consider things like fund charges and retirement options, and make sure this is the right option for you before you take any action. If this is something you think might be useful to you, you can contact Aegon via your Retiready account.
When making decisions relating to your pension we'd always suggests you seek financial advice. You can find an authorised Independent Financial Adviser in your area at Unbiased.